Design & Installation Services
At Perfect Landscapes, we take your ideas and bring them to life. Our designers will build a full-scale plan and rendering so you can see exactly what your landscape will look like down to the last detail. We specialize in creating scalable designs that can be built all at once or gradually over time.
Maintenance Packages
Year-round lawn maintenance is critical to having the beautiful lush lawns that we all admire and want. We have created maintenance packages with optional additional services that are designed to keep your outdoor space healthy and vibrant. All you have to do is relax and enjoy.
Seasonal Services
Perfect Landscapes offers its clients year-round landscaping services. So, in addition to keeping your landscape looking pristine in the spring and summer months, we're here to help with your leaf cleanup in the fall, and snow removal in the winter, not to mention help you get your holiday lights up.
WHAT OUR CLIENTS SAY
"I just took a quick look at the yard and it's definitely a WOW!!! Great work! Very happy! "
"Robert worked closely with us on the lighting, landscaping and irrigation work. He listens carefully to all our requests, both big and very small, and (unlike many in this business) he actually follows through and makes sure they are completed on time and to our full satisfaction. He is generous with his time, stopping by whenever necessary to check on the job or meet with us to discuss progress."
"Your snow removal service has been the one bright spot of this long, dreary winter. I cannot tell you how impressed we were to discover this last time that the snow had been shoveled and removed during the night–while we slept! We are getting too old to handle our driveway and walk in the way we would like anymore–and you help us feel very safe."
"I am using Perfect Landscapes right now and they are superb. They are not finished yet, they wrapped up stage 1 yesterday. The staff are skilled, polite and they're doing a great job. The owner, Christian, speaks to you and they are flexible and very knowledgeable."
"Your crew did an outstanding job and I wanted to thank you and your company for the work they've done this year keeping my lawn looking great. There is a vast improvement in my lawn's health and looks from where it was last year.  We look forward to continuing with you guys next year."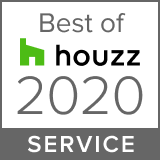 Licensed, local and reliable. Don't allow just anyone to work on your property. As a licensed, Virginia Contractor, we Carry Insurance to Protect You! Treat our Clients and Employees fairly! Understand our Local Climate! Possess the Landscape Experience needed to Design, Build and Maintain your Outdoor Living Space. So relax and let Perfect Landscapes take care of the dirty work.
Virginia Class A Contractor # 2705 076217A